AVIATION AUTHORITY CAUTIONS PUBLIC AGAINST 2 'UNAPPROVED AIRLINES'
The Ghana Civil Aviation Authority (GCAA) has cautioned the public against doing business with Gold Star Airline and Global Ghana Airlines.
According to the Authority, the two were found to be misleading the public that they operate flights from Accra to other parts of the world.
A statement from the GCAA, signed by its Director-General, Simon Allotey, said, "Goldstar Airline has advertised flight operations from Accra, Ghana to destinations within Africa and other parts of the world. Similarly, Gobla Ghana Airlines, a Chicago-based company has also advertised flight operations between Accra, Ghana and Chicago, USA."
It said "The above-mentioned advertisements are misleading and the Ghana Civil Aviation Authority takes a very serious view of this."
It said dealing with the airlines will be at one's own risk as "they do not have the necessary approvals from GCAA to commence such air operations."
"GCAA will abide by its mandate in ensuring that, stakeholders in the Aviation Industry in Ghana conduct their Air Transportation business in a safe and secure manner in accordance with National Laws, GCAA Regulations, International Standards and recommended best practice."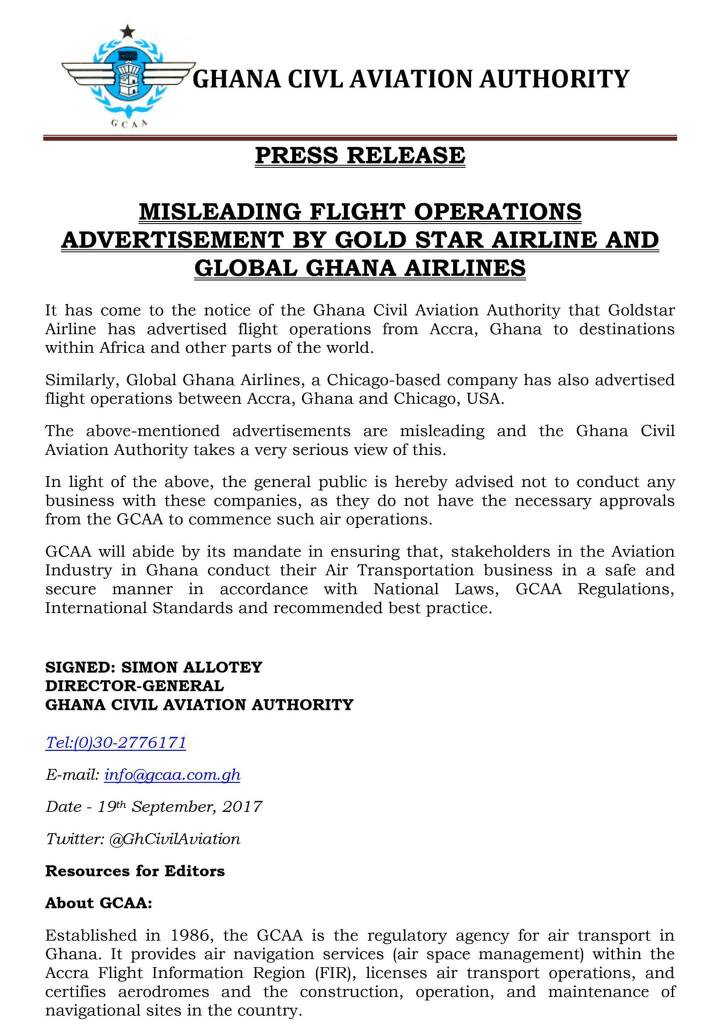 You may also like...
May 2022
M
T
W
T
F
S
S
« Apr
1
2
3
4
5
6
7
8
9
10
11
12
13
14
15
16
17
18
19
20
21
22
23
24
25
26
27
28
29
30
31
Categories
Archives